6" DSP Double Wall Stove Pipe - Better Insulating Value for Superior Stove Performance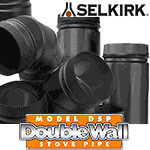 DSP double wall stove pipe is a connector pipe that links your wood stove to an air insulated chimney. DSP stove pipe features a 1/4" air space between the double wall construction to provide superior insulating value to ultimately keep flue gas temperatures higher and enhance draft performance. The Superior double wall construction and insulating value of DSP stove pipe is designed to reduce moisture and smoking, increase wood stove efficiency, and produce less creosote build up. Use Selkirk DSP Double Wall Pipe with SuperPro Class-A Chimney.
Reduces clearances from 18" to 6"
Listed to ULC S641 and UL 103 Standards
Constructed of corrosion resistant 400 series stainless steel
Not what you are looking for? See all
DSP double-wall stove pipe
.
DSP Installation Instructions
-
DSP Brochure
Note: All Stove & Chimney Pipe is chosen and classified by the inside diameter. If your flue has a 6" Inside Diameter you will choose from the 6" Stove and Chimney Pipe categories
Please Note: Chimney components from different manufacturers and brands cannot be mixed and may not fit together or could cause serious problems. Choose a manufacturer or brand based on your needs