Details
This 7'' DuraPlus Mobile Home Kit is the perfect option for the homeowner that has a mobile or manufactured home, and it does not require professional installation and carries a lifetime warranty.
Included in this 7" DuraPlus Kit:
7" DVL Adapter
7" DuraPlus Chimney Cap
7" DuraPlus Storm Collar
7" DuraPlus Ceiling Support Box
7" DuraPlus Roof Flashing
7" DuraPlus Attic Insulation Shield
Not Included in This Kit:
7" DVL Black Stove Pipe Lengths- DVL (Double Wall Stove Pipe) is required for Mobile/Manufactured Home Installations
7" DuraPlus Chimney Pipe Sections Lengths
The 7'' DuraPlus Mobile Home Kit contains all the components needed to install a 7" chimney (excluding black stove pipe and DuraPlus chimney sections) straight up through a normal flat ceiling.
This kit includes the following (from the cap down):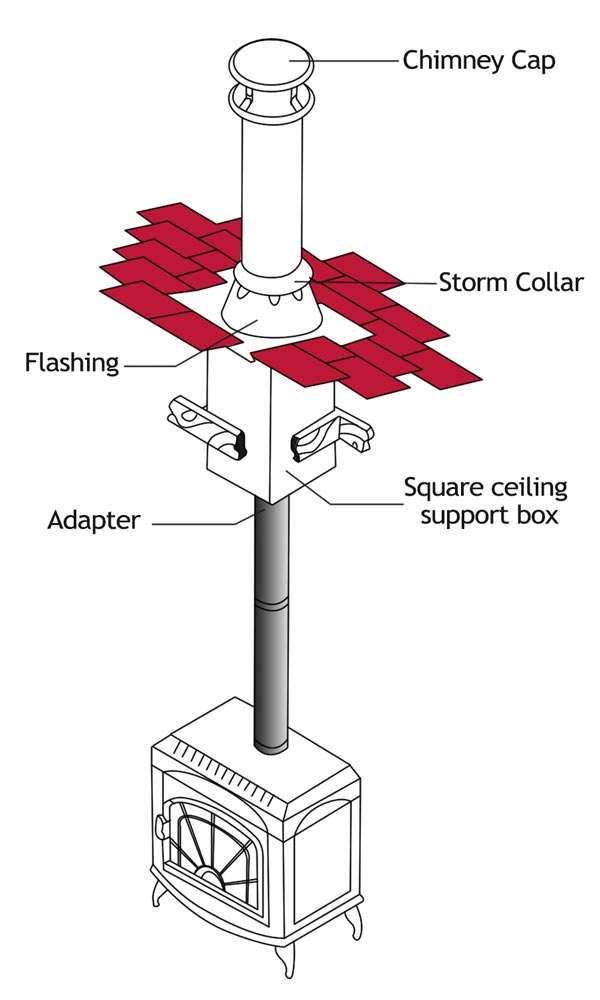 7" DuraPlus Chimney Cap is required where the chimney pipe terminates above the roof line. This Chimney Cap has removable screws to allow for easier cleaning of the chimney and spark arrestor screen. Includes spark arrestor screen.
7" DuraPlus Storm Collar this aluminum storm collar is required for use on any through-the-roof installations using a roof flashing.
7" DuraPlus Roof Flashing provides leak proof roof penetration. The purpose of the roof flashing is to weatherproof the roof where the chimney penetrates the roof. The flashing gets tucked under the shingles and the shingles are cut around the flashing if needed. The flashing is sealed to the roof with silicone to provide that needed seal to prevent water from getting under the flashing and getting into the attic or house, then a storm collar is placed over the flashing and sealed to the chimney pipe with a high temp silicone to prevent water from running down the chimney.
7" DuraPlus Attic Insulation Shield is required for installations that pass through an attic to prevent insulation and debris from accumulating near the chimney. The Attic Insulation Shield fits over the Firestop Radiation Shield or Support box and consists of two-parts - a collar and a base.
7" DuraPlus Square Ceiling Support Box 6" DuraPlus Ceiling Support Box is for use with flat, vaulted, or cathedral ceilings. It supports up to 35' of chimney pipe with a built-in starter section. The Square Ceiling Support box features a sleek black finish to add pleasing aesthetics to the fully functional build.
7" DVL AdapterUse to connect from double-wall DVL to DuraTech, DuraPlus, DuraPlus HTC, and DuraLiner for a through-the-wall or ceiling support installation. Required for proper connection. Provides a strong mechanical connection. Painted black.
Simply add enough 7" stove pipe and class A chimney pipe to complete your installation.
NOTE: Mobile and Manufactured Home Installations require Double Wall Stove Pipe (DVL) and Triple Wall Chimney Class A Pipe (DuraPlus) to meet safety and UL Standards
The DuraPlus all-fuel chimney system is for use with wood stoves, fireplaces, furnaces, boilers, stoves, ranges, water heaters and other appliances fueled by wood, oil, coal or gas. The innovative triple wall construction is designed to stay cool on the outside and provide hot drafts on the inside to boost stove efficiency which, in turn, makes for a fire-safe construction that protects both the chimney as well as the building. The triple wall chimney features 2 insulating layers; a ceramic blanket and air space provide security to the design. The ceramic blanket insulation is held securely in position eliminating hot spots common with loose-fill type insulation. In the event of a creosote fire, the compressible blanket insulation allows the chimney liner to expand outwardly in a radial direction.
DuraPlus components make for easy installations offering a precision twist-lock connection that secures without the use of gaskets or sealants. Safety and efficiency of the chimney are maintained after the installation with a 2" minimum clearance to combustibles.
Installation Instructions for DuraPlus All-Fuel Chimney System.

WARNING: This product can expose you to chemicals including Chromium, which is known to the State Of California to cause cancer and birth defects or other reproductive harmFor more information go to http://www.P65Warnings.ca.gov.
Specifications:

.016'' 430 stainless steel outer wall or .018'' galvanized steel outer wall.
.018'' aluminized steel intermediate liner.
.016'' 430 stainless steel inner liner.
Insulated layers of ceramic blanket plus ventilated air space.
Locks tightly with a precision twist-lock connection.