Chimney Pipe Wizard - Let's Get Started
When choosing to add a new heating appliance to your home, selecting the fireplace or wood stove is only half of the job. The other thing to keep in mind is the venting components for the appliance you are purchasing. Planning out a chimney system can seem like a daunting task, but with Northline Express and our easy-to-use Chimney Pipe Wizard, we help streamline the process for you.
The Chimney Pipe Wizard is designed to help you plan your entire vent run and see what options are available
The Chimney Wizard is a step-by-step planning guide that will ask you for answers to a series of questions pertaining to your specific installation site. From the answers you provide, the Chimney Wizard will create a full list of components that you will need to complete your project. It is really that simple, and once you go through the wizard you will see why so many people love using it.
Please Note: The Chimney Wizard is not designed to help figure out replacement components for an existing vent run. It is designed to only be used when you need to figure out a complete run of venting components for a heating appliance that requires a Chimney Pipe. Vent pipes from different manufacturers are never approved for use. Each manufacturer has slightly different connections and they do this on purpose so that brands can not be interchanged. If you try and use even one component from a different manufacturer it will void your safety warranty on all of your venting components as well as on your heating appliance itself. You can check out our full line of Chimney Pipe Components
What will I Need to Begin?
Measuring tape, level, and/or square to measure height and distance.
Ladder if needed to take roof measurements.
Pencil and Paper to take notes/record measurements.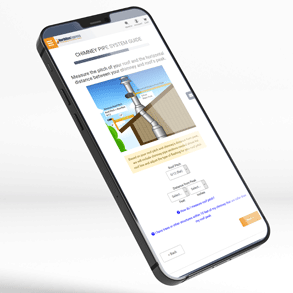 Optional, Use your smartphone to enter measurements as go through the wizard.
What tools will I need to have before using the step-by-step Chimney Wizard?
Tape measure, level, and/or square: You will need to collect a variety of exact measurements in order for the Chimney Wizard to properly calculate your venting components.
Ladder:You will need a straight ladder and perhaps also a trestle ladder. This will help you collect ceiling height measurements as well as climb onto the roof of the home to gather information up there as well
Pencil & Paper:You will need a way to write down all of the measurements as well as any notes that you may need to take.
Smartphone (OPTIONAL):The Chimney Wizard is also available on mobile devices so you can enter the measurements as you go step by step with the wizard.Please take care when using your phone on the roof.
What questions will I need to answer?
In order to properly configure your vent run, the Chimney WIzard will need a variety of measurements. You don't need to know the answers to these question now, we'll walk you though the process and explain along the way. Here is a list of the questions that will be asked as part of the Chimney Wizard's discovery of your home project:
What type of installation are you doing; Multi-Floor, Through Wall, or Cathedral? This information is important because as you go through your first ceiling or wall, there will be different components that are required such as a Wall Thimble or a Ceiling Support Box. Also once your pipe goes through your first wall or first ceiling, your pipe must transition to Class A chimney pipe for the rest of the vent run.
What is the inner diameter of your stove outlet? There are two ways that you can get this information. First, you can look in the stove or appliance manual and it will list it under specifications or you can use a tape measure and measure the piece of pipe that is sticking out of the top or rear of the unit.
What is the chimney height to the roof? This question is asked so the Chimney Wizard can know how much pipe will be needed for the vent run. You will want to measure from the top of your appliance all the way to the top of the roof on the outside of your home.
Do you have a shingle or metal/tile roof? This information will change the components needed once the vent pipe penetrates the roof line.
What is the pitch of your roof? This is important so that the proper flashing is ordered for your project. While there are some adjustable flashing options, they are all sorted by the pitch of your roof. Having a proper-sized flashing will help protect the chimney system from the elements. If you need help determining what your roof pitch is, check out the Northline Express YouTube page for this video on How to Measure the Pitch of a Roof.
Do you need a horizontal offset? This question is asked to determine if you have any type of gutter or obstruction hanging from the roof or outside of the home. If you do, you may need additional components to take the vent pipe around the obstacle, or you could require a different type of chimney strap or bracket.
What is the distance between your chimney and the roof's peak? For proper chimney venting installation above the roof, you will want to follow the 3 - 2 - 10 Rule. This rule means that the shortest side of your chimney vent needs to be at least 3 feet above the roof penetration. The top of your chimney pipe has to be at least 2 feet higher than any part of the building that is within 10 feet of the chimney pipe.
Do you need a spark arrestor or snow splitter? A Chimney Spark Arrestor is a type of Chimney Cap that prevents sparks and embers from escaping through the top of your chimney vent run that terminates above the roof line. Having a spark arrestor is a good way to lower the potential for a fire caused by the sparks leaving the chimney stack.
A Snow Splitter is a device that is designed to prevent snow and ice accumulation on or around the chimney vent pipe that is penetrated above the room. Heavy snow and Ice can build up and cause potential problems including chimney blockages, structural damage, and safety hazards.
What happens after I answer all of the Chimney Wizard Questions?
At the end of the Chimney Wizard will show you the options you have to choose from for your vent run. It will allow you to compare brands and pricing and then you can add the entire list of components to your cart.

---
The Chimney Wizard is designed to configure an entire run of Class A vent pipe. We also have the Stove Wizard which is designed to help incorporate stove pipe into your run
Stove pipe is usually painted black and can come in either single wall or double wall options. Stove pipe is mainly only used as venting for Freestanding Wood Stoves. The walls of stove pipe are much thinner than Class A pipe. The reason for this is so that heat can radiate from the venting back into the room as a secondary heat source. Stove pipe can only be used in the room that the appliance is installed. Once the vent pipe passes into the first wall or ceiling then the vent run must transition to Class A stainless steel venting. Some wood stoves come with a blower system that is attached to the unit near the firebox. Other wood stoves only radiate heat from the stove itself. Using stove pipe as a venting options allows you to retain some of the heat that is normally lost up the vent stack.
Also if you are using Stove Pipe as your venting there are accessories that can be added to increase efficiency. For example, you can also add a Magic Heat Wood Stove Heat Reclaimer to the venting pipe to help push more heat into the room. Check out the Stove Pipe Wizard to configure your wood stove project and figure out all the components you need today.

---
Chimney Wizard FAQ
Can I use single or double-wall stove pipe in place of the Class A chimney pipe?
Single and double-wall stove pipe, which is usually painted black is designed to only be used with select models of wood-burning stove units. Stove pipe requires a much higher clearance to combustibles, but it helps to radiate extra heat back into the space where your appliance is installed. Not all appliances are approved for use with stove pipe, so you will want to refer to your specific appliance manual to make sure that this type of venting is approved. You will also need to check with your state and local building codes to make sure it is approved for use in your area.
You also have the option of using Galvanized Class A pipe on the interior of the home. The Galvanized sections of pipe are a bit less expensive than the stainless steel versions and as long as you stay with the same brand and manufacturer, all of the connectors are approved to be used together.
The one thing to note is that if you are using single-wall stove pipe, double stove pipe, or galvanized Class A pipe, they can only be used from the appliance to the first time the venting system passes through a wall or ceiling. Once the venting system touches its first wall or ceiling you must transition to a stainless steel Class A vent pipe.
You can check out our full line of Stove Pipe Components as well as the DuraTech Galvanized Class A Venting Components to see which option is best for you.
Is there a preferred brand when it comes to Class A venting?
Northline Express offers Class A pipe from a few different manufacturers who are among the most trusted brands in the industry. We offer products from DuraVent, Selkirk, Shasta Vent, and Superior and all of these manufacturers produce high-quality products.
Our most popular brand and the one that is the most recognized brand of Class A pipe in the industry is DuraVent. DuraVent offers a DuraPlus line as well as a DuraTech line. Dura Vent offers a lifetime warranty on all of their products and offers products for all types of projects from small homes to large office buildings.
What happens if I get stuck or need additional help?
You are welcome to contact our Customer Service Team and we can help walk you through the Chimney Wizard, or if you prefer we can walk you through your project and help you figure out your components right on the phone with you. Feel free to call us toll-free at 1-866-667-8454 or you can also Email Us.
Do you offer help articles or videos?
Northline Express has a Resource Center full of helpful articles on a wide variety of topics and projects.
We also have our Northline Express YouTube Page where you can find a large selection of videos. On our YouTube page, we have videos that feature hands-on product demonstrations as well as How to Install videos and much, much more.