Designing your DIY Propane Fire Pit
Half the fun of having an outdoor living space is being able to customize it exactly the way you want. With a Do-It-Yourself Propane Fire Pit, you can have the outdoor oasis you've always envisioned; A backyard area that is relaxing and exciting all at once.
We've put some ideas together to help you create a one of a kind fire pit that is sure to be the center of attention and a popular visiting area at your next backyard gathering.
Some build your own firepits like the one we've pictured include just the fire pit itself, a ceramic log set, lava rock and shale for the ember bed, an LP hose and a on/off gas valve. Aside from the fire pit, the rest is up to you. These fire pits allow you to use your imagination when it comes to the surround. You can use slate stones like the Napoleon fire pit pictured here or you can use bricks, river stones, smooth cement and a variety of other surrounds to ensure that your fire pit is a personalized work of art.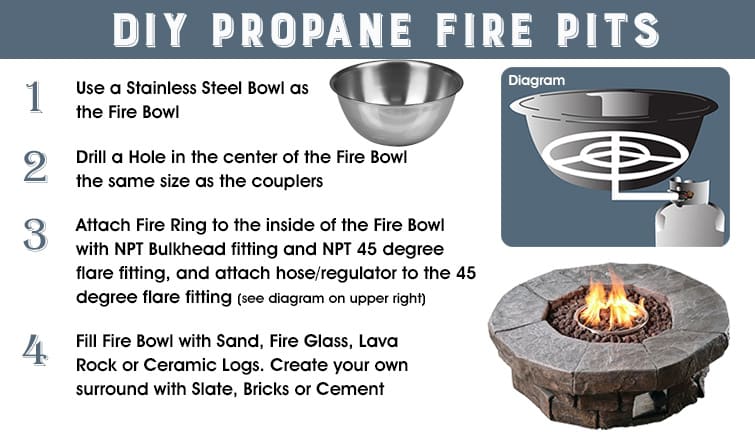 ---
DIY Firepit Kits
DIY kits like the Napoleon Patioflame provide most of the components you'll need to build your own fire pit except for the surround and the LP tank. Other do-it-yourself fire options can be built from top to bottom with everything ordered separately.
---
Building your Firepit from Scratch
To get started building your own propane fire pit from scratch, you'll need to choose a fire bowl. Be sure that the fire bowl you choose is able to handle high temperatures and hold materials like sand, water, lava rock, fire glass, manufactured logs or which ever accessory you plan to use in your fire pit.
Stainless steel is suggested for the fire bowl. Stay away from painted steel, aluminum and galvanized steel as these will release fumes or melt. Be sure not to situate your fire pit directly against cement or wood. Set up a metal vessel within the structure to allow for ventilation and leave plenty of room between the metal and the structure for air to flow.
Next, you'll want to locate and mark the center of your fire bowl. Once you've located and marked the center, you'll need to use a step drill or a hole saw to drill a hole in the fire container. Make sure that you drill the hole in accordance with which ever size couplers you will be using to attach your burner and LP tank regulator.
For the next step, you'll need to find an NPT bulkhead fitting with a nut that will fit snugly in the hole that you drilled in your fire bowl. Slide the NPT fitting through the hole and secure it with a nut and add high temperature silicone sealant if it is not water tight (for sand). You can also weld the NPT fitting down instead as an alternative. Next, you'll want to use the NPT fitting to attach the ring to the inside of the fire bowl. If using sand make sure the holes on the ring are pointed down so it doesn't run in, for rocks, high temp glass or other porous materials point the holes up. On the bottom of the fire bowl attach an NPT 45 degree flare fitting to the coupler. Next, you'll need to attach the hose/regulator using the 45 degree flare fitting on the end of your hose. Finish by screwing the hose onto your LP tank.
Venturi upgrade kits are available for fire kits that burn rock, high temp glass or other porous materials to achieve a clean, soot free burn and can be used in place of the NPT fitting and the 45 degree flare fitting. The venturi is used to produce a cleaner burn with less soot and smoke by bringing ambient air and oxygen into the gas mix. A small nut in the center of the venturi is used to adjust the air/gas mix.
We've put some items together to help you get started with your DIY propane fire pit. Choose your components and build your own fire pit using these suggested fire pit parts.