This Article has been approved by our on staff NFI Certified Specialists & Master Hearth Professionals
When your firewood is properly cured, or seasoned, it will burn cleaner and hotter than unseasoned or green firewood. Burning unseasoned firewood will give off less heat because it has to "boil off" the moisture in the wood. It also tends to go out more often and produces more smoke than heat, which is essentially wasted money. Another down side to burning green firewood is increased creosote build up in your chimney. Keep reading to learn how in 3 easy steps you can make sure that you are properly seasoning your firewood.
Splitting
Whether you are felling trees yourself or having your firewood delivered, it is important to split your firewood into smaller pieces that are appropriate size for your wood stove or fireplace (usually about 18" - 24" in length) . Not only will splitting the firewood make stacking easier but it is going to assist in the seasoning process.
There are many ways to split firewood from using a splitting maul to using log splitters. Splitting firewood by hand can be a strenuous task and we recommend the following items to make splitting your firewood less of a chore:
Log Splitters: Our Top Recommend Products
''Easy-Split'' Wood Splitter - This unique hand held firewood splitting tool combines the "sledge and wedge" method of splitting wood all into one unit. Completely portable weighing only 12 pounds total, this tool is easy to hold yet packs a wallop! Learn more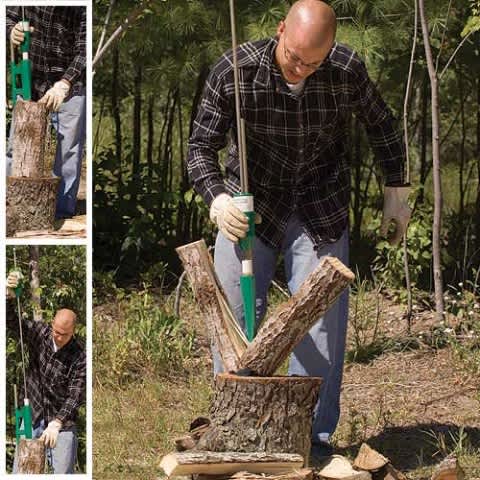 Super Firewood Splitter - Split logs using minimum force, with minimum risk! Smart Splitter is a wood splitting tool that is designed for safety and ease of operation, saving your back, arms and shoulders! Learn More
Stacking
Once you have your firewood split it is important that you are stacking it right away so that the seasoning process can begin. You should never stack your firewood directly on the ground. Your firewood should always be elevated off the ground. When stacking your firewood make sure that are not stacking your firewood too tightly or too close to a building. This will not allow adequate air flow around and through your firewood and increase the seasoning time.
Stacking your split firewood on an elevated log rack will increase airflow and decrease the time it takes for your firewood to season. Choose a firewood rack that is going to withstand the elements and will accept a cover to get the best results. Remember that you want to keep your wood dry once it is seasoned. We have a variety of racks to choose from, even one for those who enjoy DIY Projects.
Log Racks: Our Top Recommend Products
WoodEze 1 Face Cord Firewood Rack - The WoodEze Expandable Wood Rack is proven to be the best firewood rack on the market when it comes to withstanding the rugged elements of the harsh winter season. Wind, hail, rain, and snow storms are no match for the heavy-duty, super strong, 16 gauge square tubing. Holds approximately 1A Face Cord of firewood neatly stacked. Learn More
WoodEze 1 1/2 Face Cord Firewood Rack - The WoodEze 1 1/2 Face Cord Expandable Wood Rack is hands down the most durable log rack on the market today. Its quality heavy-duty, 16 gauge metal tube construction and powder-coat finish ensures the racks integrity and allows for a life time of dependable service. Learn More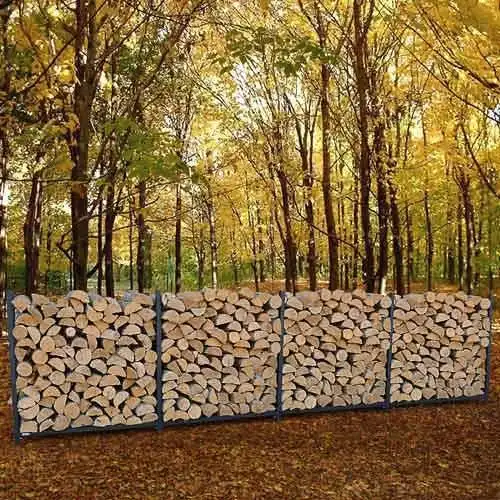 WoodEze Super Heavy Duty 2 Face Cord Firewood Rack - The Expandable Wood Rack has earned recognition as a favorite among homeowners and wood burners for it's electro powdercoated finish, that is virtually scratch and weather resistant, and stainless steel hardware that is guaranteed to never rust. Aside from the hefty construction, the WoodEze Expandable Wood Rack offers simple installation that assembles in minutes and a versatile expandable addition at a price that is too good to pass up. Holds approximately 2 Face Cord of firewood neatly stacked.Learn more
Stack-N-Store Log Rack Brackets - Do you want a quick and easy way to build a custom size log rack or work bench? The we have just the answer for you, the Stack-N-Store Log Rack Brackets. Select the 2 x 4 lumber of the right length and add the brackets. BAM! You're done! It's that easy! Pressure treated wood is recommended for permanent outdoor projects. LUMBER NOT INCLUDED. Add screws or nails in the pre-drilled bracket holes for added stability. Learn More
Checking Firewood Moisture Levels
Freshly cut wood, and most delivered firewood, will have a moisture content of 100% or more. Firewood with a 100% moisture level means that half of the weight of the wood is water. It is important to make sure that you are not burning your firewood until the moisture level is at 20% or less. Wood burning veterans usually can determine when wood is seasoned by the weight of the wood, the sound of the wood, or looking for checks in the end wood grain. A moisture meter is the easiest way to be sure that your firewood is ready to burn.