Posted by Jeffrey Swerdan on Sep 6th 2023
Measuring Guide for Fireplace Mantels and Fireplace Surrounds
Are you looking to add a brand new mantel shelf or a fireplace surround to your fireplace hearth area? Are you looking at updating an outdated existing fireplace mantel surround? Then you have come to the right place. This article will walk you through all of the things you will need to consider when planning for a new or updated fireplace mantel. We will walk you through what you will need to measure and we will go through a few things to keep in mind as you plan your project.
The first step of the planning stage is to identify your fireplace type and style as this will help with clearance requirements and mantel placement
Before we break out the tape measures and pen and paper to calculate our dimensions we first need to do a little homework. The first step is to determine the type of fireplace unit that you have. You will need to know whether your unit is a masonry fireplace or a factory built fireplace. The next thing to confirm is what fuel type that your fireplace uses. Do you have an electric fireplace, a wood burning fireplace or a gas burning unit? Once you know the construction type of your fireplace and your fuel type this will help you determine what kind of mantels and surrounds that you can look at.
If you have a factory built firebox, meaning that it is not a stone, masonry fireplace, you will want to check out the product manual of the fireplace. In the manual it will have a section dedicated towards choosing a fireplace mantel. In the manual it will list clearance requirements and suggested building materials that will work with the fireplace unit.
Time to break out the tape measure and figure out the fireplace mantel size and dimensions: width, height and depth
Now that you know what kind of fireplace unit you have and are aware of the clearance requirements is to break out the tools needed to measure your fireplace. You will need a tape measure and something to write down the measurements that you collect. Some people like to draw a rough sketch of the fireplace wall and use that to fill in the dimensions. This will help when you start looking through the large array of new mantel and surround options.
The first step is to measure the existing firebox size. You will want to know the width and height of the fireplace. Also you will want to measure the distance from the ground to the bottom of the firebox if it is not flush with the floor or hearth.
Then the next step is to measure the area around the firebox. You will want to measure the space on each side of the firebox, from the frame of the fireplace to the next wall or obstacle. While doing this it is also a good idea to measure any obstacles including light switches, wall outlets and thermostats. Draw these obstacles on your diagram so you can make sure that they will not interfere with installations.
After measuring the sides, next you will want to measure from the top of the fireplace box up to the ceiling or nearest obstacle. Although you are probably not going to purchase a mantel that is the full width of the area above your fireplace, it is a good idea to know how much room you have total. Knowing the total height available allows you to think of decoration options for what you would want to put on top of the fireplace mantel.
Measuring the distance around the fireplace box is important to determine the total size of mantel or surround you can choose to go with
If you have an existing fireplace mantel then it is also helpful to take measurements of the existing fireplace mantel and surround. For this you will want to take measurements of the width of the fireplace mantel at the widest point of the mantel, the tallest point of the height and then you will want to know what the current return depth is of the existing fireplace mantel. Also it is helpful to measure from the bottom of the mantel to the floor as well.
On the Northline Express YouTube page we have this handy video called: Measuring Your Fireplace for a Mantel or Surround that takes you step by step through measuring your current fireplace mantel or surround.
If you are replacing a mantel or surround, you will most likely want the new mantel to be slightly bigger than your existing fireplace mantel. When you remove the current fireplace mantel there will most likely be a difference in the wall finish between where the surround was installed and the wall around it. Purchasing a new mantel with slightly larger measurements will help you cover those existing lines without having to do a lot of touch up painting or remodeling.
One thing to keep in mind is that there is a good chance you will not know how your existing mantel was installed, which also means you don't know how easy it will be to remove. Most mantels are installed via cleats or fasteners, but there is a chance construction adhesives were used. The reason we bring this up, is that sometimes changing out a mantel or surround can become a bigger job than expected. This is why careful planning is so important.
It is recommended to consider the hearth area as a whole when you are choosing a fireplace mantel or surround
One option is to choose the surround or fireplace mantel that you like and the design the room around this piece. The other option is to design the overall design and look of the hearth area before choosing your surround. Both are viable options, it just depends on what the overall look you want to have for the room.
The space around the fireplace opening is called the hearth area. The hearth area is usually just a section of one of the rooms in your home, but the hearth area can definitely be designed as focal point of not only the room but the entire home. This is why you it is advised to consider all parts of the hearth area including the fireplace, mantel, fireplace screen, fireplace doors, hearth rugs, decorations, decor and fireplace accessories. All of these decorative items will add to the overall aesthetic that you are going for.
If you are planning on putting large art pieces, or clocks on your mantel this should go in to your planning stages. Large decorative items are a great way to make the fireplace area stand out from the rest of the room.
Just because you have a current surround doesn't mean you have to stay with the same style
Many people think they have to stay with the same style of mantel that they currently have, but this is not the case. It is true that you may have to do a bit more finishing work around the fireplace, but don't let the fear of a bit of extra work, stop you from creating the hearth area that you will love. You are going to spend a lot of time in front of the fireplace, make sure that you are happy with how everything looks. If you sacrifice some things you really want to save a few dollars, you are going to regret it every time you look at the area. You are most likely only going to revamp the hearth area once, you may as well make it something you want to look at every day.
Pearl Fireplace Mantels have been producing mantels since 1995 and they offer some of the most beautiful wood mantels on the market today
Check out our full line of Pearl Fireplace Mantels and you can choose from wood, MDF, stone or other construction and you can also check out their mantel shelves as well as full fireplace surrounds.
Fireplace Mantels
Our fireplace accessories collection includes a large selection of fireplace surrounds and fireplace mantel shelves that will create an elegant backdrop for your fireplace and be a popular gathering place for friends and family.
Shop Now
FAQ - Measuring a Fireplace Mantle and Surround
What is a mantle piece?
A mantle piece is another name for a fireplace mantle. In most cases this refers to the top mantle shelf that may or may not be part of the fireplace surround.
How big, high, wide, deep should a mantle be over a fireplace?
As long as you are adhering to the minimum clearance requirements listed by your heating appliance manual and local and state building codes, it is completely up to you and your interior designer to determine the size your mantle should be. Most people think that centering your mantel over the firebox will look the best. Most people want the mantel to overhang both sides of the firebox. It looks nice to have 3 to 4 inches on each side of the firebox. The height of the mantel really depends on what decorative items you want to place on the mantel and how it looks overall on the fireplace wall.
What is the standard size of a mantel?
Fireplace units come in a multitude of sizes, and because of this there is no standard fireplace size. Since there is no standard fireplace size, there is also no standard size of mantel. A general rule of thumb is to make a mantel shelf 6 to 8 inches longer than the width of your firebox. If you are going with a surround then the size of the surround should match closer to the size of the firebox, as long as you keep minimum clearance requirements in mind.
Where can I learn more about Fireplace Mantels and Surrounds?
Check out our Resource Center for helpful articles about Mantels, Surrounds and other Fireplace topics. Here are a few
You can also check out the Northline Express YouTube Page where we review many of the fireplace mantels and surround models that we carry on our website.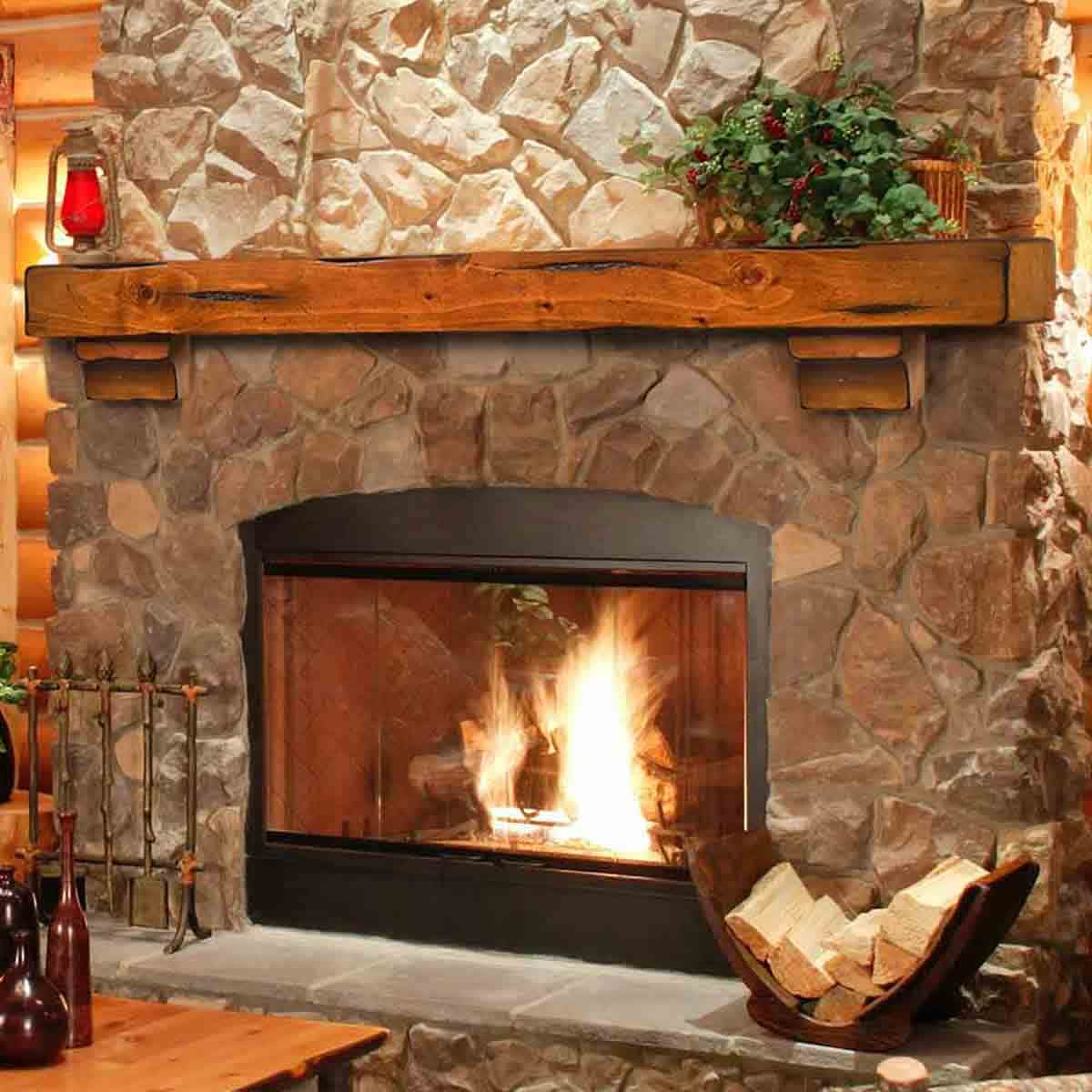 Pearl Fireplace Mantels
For over 50 years, Jim Pearl has been producing some of the most beautiful wood fireplace mantels that represents roots, heritage and tradition. Furniture is arranged around them, precious treasures are displayed on them, and they create a sense of balance and stability to the entire room.
Shop Now