SkeeterVac Mosquito Traps
Order your Blue Rhino SkeeterVac Mosquito Trap and SkeeterVac accessories from NorthlineExpress.com. We guarantee that you will be satisfied with your SkeeterVac and experience with the company.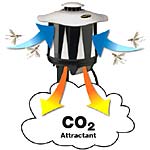 How does the SkeeterVac work?
The Skeeter Vac SV3100 and SV5100 are cordless units that create their own power to energize the suction fan by converting propane to electricity using a catalytic converter. Once it is ran through the catalytic converter, the propane byproduct is CO2. When the fan powers up, the exhaust from the fan blows CO2 and an attractant called Octenol out of the Skeeter Vac along with heat and moisture. Mosquitoes are drawn to the CO2, Octenol, moisture, and heat thinking the Skeeter Vac is a mammal. Some mosquitoes will get stuck on the sticky TacTrap inside of the Skeeter Vac which is the black and white portion of the trap surrounding the SV3100 and SV5100 engine. Mosquito research has shown that mosquitoes are attracted to dark colors. The design of the TacTrap with the white and black contrast tends to make mosquitoes fly toward the wider dark portions of the TacTrap which is where the suction from the fan pulls the mosquitoes into the permanent net inside of the Skeeter Vac where they will dehydrate and die.
Superior SkeeterVac Features
Exclusive Fine Tune BaitBlock System - SkeeterVacs are the only mosquito traps on the market to provide attractant customization to specific outdoor environments. Different species of mosquitoes and different physical locations may require a lesser or greater amount of Octenol output. The FineTune BaitBlock system on SkeeterVacs allows for 5 different settings to vary the amount of Octenol output. Once adjusted for your area the catch rate of the SkeeterVac will increase.


Lurex3 Asian Tiger Mosquito Attractant - SV3100 and SV5100 SkeeterVacs also allow the use of the Lurex attractant, which targets the Asian Tiger mosquito. Asian Tiger mosquitoes as well as different physical locations may require an adjustment of the Lurex output. The system on the SkeeterVac allows for 5 different settings to vary the amount of Lurex output. The catch rate on the SkeeterVac will increase, once you have found the right settings for your area.


WaveDrawer™ - This patent-pending feature on the SkeeterVac ensures minimal loss in vacuum power as the trap fills up. The SV3100 and SV5100 have been re-designed with the WaveDrawer on top of the engine eliminating the maintenance required on earlier SkeeterVac models.


LED Lighting - SkeeterVacs unique 5-color "motion" lighting system helps increase attraction levels and works on difficult species like the Asian Tiger mosquito.
Benefits of Using a Mosquito Trap
By using more CO2, the Skeeter Vac operates with more power attraction and covers a larger coverage area.
SkeeterVac mosquito traps offer the most effective, hands off, permanent method of mosquito control on the market.
The SkeeterVac SV3100 and SV5100 are cordless which means no service interruption or tripping over cords and no limit on placement.
Blue Rhino SV3100 and SV5100 SkeeterVac mosquito traps offer better features and stronger performance at an unbelievably affordable price!
Maintenance on the SkeeterVac is so minimal. Simply refill the propane tank every two weeks, replace BaitBlock every 60 days, and replace TacTrap when 80% covered with mosquitoes.
Which SkeeterVac mosquito trap is best for you? SV3100 or SV5100
The only thing you really have to take into consideration when choosing between the SkeeterVac SV3100 and SkeeterVac SV5100, is the size of the area you are treating for mosquitoes. The only real difference between the two is that the SkeeterVac SV3100 covers 1 acre and the SkeeterVac SV5100 covers 1.5 acres.
NorthlineExpress.com carries only the best, most affective Blue Rhino Mosquito Traps on the market and we stand behind that statement because the SkeeterVac SV3100 and SkeeterVac SV5100 have both been tested by our expert staff members here at our Northern Michigan location.
With over 31 years of experience in outstanding customer service, we specialize in offering quality home leisure accessories that make life more enjoyable. As a company, we believe that your satisfaction is our responsibility and have achieved our success by offering items that we ourselves would use, at a fair price. We've created a strong foundation for NorthlineExpress.com and a loyal customer base by sticking to these simple, moral guidelines:
Guarantee: NorthlineExpress.com takes pride in making customer satisfaction a personal responsibility and we stand behind each and every item that we offer and guarantee them with a promise that your order will arrive free from manufacturing defects and ready to improve your quality of life. All purchases are returnable for 30 days after the date you receive your merchandise and are fully guaranteed by the manufacturer. If for any reason you are not satisfied with your purchase, our friendly and knowledgeable customer service representatives are standing by and are eager to help you in any situation.
Quality: Most of the objects offered on NorthlineExpress.com are taken home and tested by experienced staff members to make sure that customers are more than satisfied with the performance and quality of their investment. Our goal is to provide quality merchandise that meet customers' demands and exceed their expectations in quality home leisure products. We choose products that will stand the test of time through harsh weather conditions in any climate so no matter where you live; we have a little bit of everything to that cater to your needs.
Service: NorthlineExpress.com Customer service team members are well trained and very knowledgeable about everything that we offer on the site and are always ready to tend to our customers needs. Our warehouse members make an important contribution to our company's success. They go the extra mile to ensure that products are handled, packaged, and shipped with precision and care. Each order is carefully processed and promptly sent out to the customer and an orderly fashion.
Free Shipping
The SkeeterVac SV3100 and SV5100 are both in stock and available for immediate shipment. Free shipping within the continental US by UPS or FedEx. We typically will be able to ship your SkeeterVac the same day if it's ordered by 2:00 PM Eastern Standard Time.
SkeeterVac Customer Testimonials - See what the buzz is all about!
***** We have only had our SkeeterVac for about a month but so far we have been REALLY happy with it! The bugs have been so bad this year that we could not even be out a few minutes in our yard even with deet, tiki torches, etc. We checked the SkeeterVac after 2 weeks of putting it out and had a ton of dead mosquitoes and the sticky part was loaded with flies. Our SkeeterVac was so full we ordered more sticky traps and after another 2 weeks with a new one that is full again also. The SkeeterVac mosquito trap itself has a whole lot of mosquitoes also. I am very happy with this purchase so far. Northline express was great also. The skeetervac was received practically overnight from ordering it.
***** Excellent product. This is the first year that we have been able to comfortably use our deck after mid April due to the Blue Rhino SkeeterVac. Wish I had purchased one sooner. Excellent service by Northline. Job well done.
***** Every time I buy from NorthLine the shipping is great and the products arrive as described and they have the best pricing, this Blue Rhino SkeeterVac SV3100 works great. Thanks, NorthLine!
See all mosquito traps and mosquito trap accessories.
Shop the SkeeterVac SV5100